Lister Hospitals has been offering ground-breaking fertility treatments at affordable costs since 2007. Over the years, we have helped thousands of couples experience the joy of parenthood using the latest fertility tests and techniques, including IVF, IUI, and ICSI. Visit us if you're looking for a fertility hospital in Thiruvananthapuram (Trivandrum) that offers personalized care.
We carry out a series of thorough and detailed pre-treatment tests to ensure the highest chances of success. The results of these tests, along with personal factors and circumstances, will help us chart a customized treatment plan that's right for you.
What Is In Vitro Fertilization?
In Vitro Fertilisation or IVF has been a boon for childless couples who cannot conceive naturally. The process involves removing mature eggs from a woman's ovarian follicles and fertilizing them with the partner or donor's sperm cells in a laboratory. The fertilized embryo is then planted back into the woman's womb, developing into a full-term pregnancy.
Why Is Lister Hospitals the Best Fertility Hospital in Thiruvananthapuram?
The success rate of an IVF treatment is the most significant yardstick to measure the quality of any fertility hospital. With us, you can be assured of working with the best gynaecologist in Thiruvananthapuram (Trivandrum). Some of our treatment highlights include:
Experienced team of fertility experts.
Latest cutting-edge tests and treatments.
Customized treatment plans depend on the patient's health and individual needs.
High success rate.
Dedicated support staff to help you throughout the pregnancy.
What Are the Different Fertility Treatments?
Thanks to medical science, we can now treat a wide range of infertility problems in men and women and provide people 100% opportunity to conceive naturally. While some treatments are invasive, we offer a wide range of non-invasive options like IUI, ovarian stimulation, etc., depending on the couple's health and pre-treatment test results.
Sometimes, couples may opt for surrogacy or even adoption. Some of the interventional treatments available at Lister Fertility Hospital in Thiruvananthapuram (Trivandrum) include;
Fertility drugs
IVF (In Vitro Fertilisation)
Intra Uterine Insemination (IUI)
Intracytoplasmic sperm injection (ICSI)
Assisted hatching
Gamete intrafallopian transfer (GIFT)
Zygote intrafallopian transfer (ZIFT)
Sperm Egg or Embryo Donation from other fertile parents
How Is IVF Treatment Done?
Dr. Ananthi Aravind is the best gynaecologist in Thiruvananthapuram (Trivandrum). For 10 years, she has provided a range of assisted reproduction treatments, including IVF. If you do not know much about the procedure and are overwhelmed by the treatment, we've listed below steps to help you understand how it works: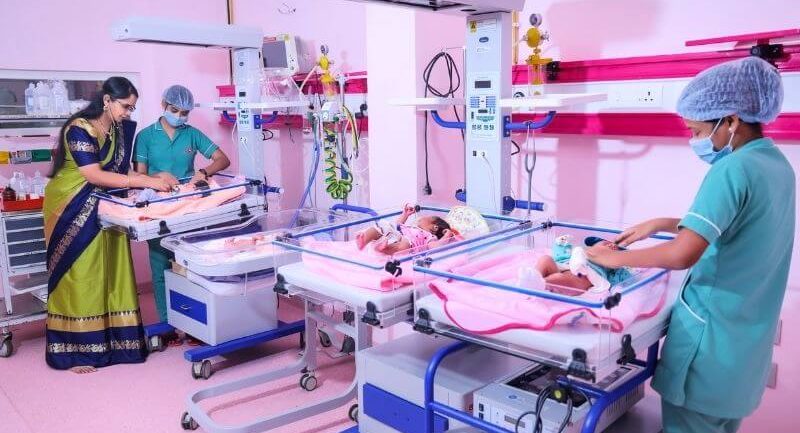 The initial visit to our fertility hospital in Thiruvananthapuram (Trivandrum) includes an initial consultation to discuss your problem and conducting a series of pre-treatment tests to investigate if there's a possibility for natural conception. We will then discuss the options before you, explaining clearly the benefits and risks involved in each of these procedures. After choosing a treatment plan, we'll undertake a series of procedures to ensure a successful IVF treatment.
The treatment starts with pituitary suppression as it helps improve IVF success.
Ovarian Stimulation – This process stimulates the ovaries through hormone medications to produce multiple viable eggs. It increases the likelihood that you'll have viable eggs and extra embryos to freeze if you need additional attempts for pregnancy.
Trigger Injection – This is a dose of HCG done after the stimulation to ensure that the eggs mature fully and leave the follicle walls.
Egg Retrieval and Semen Collection – The matured eggs are then retrieved from the mother's uterus, and a semen sample is collected from the partner/donor.
Fertilisation (Insemination) And Embryo Development – This involves creating a conducive environment for growth in the lab.
Embryo Transfer – The embryo is the most significant step where it is transferred back to the woman's uterus.
Luteal phase of two weeks between embryo transfer and conduct of pregnancy test.
A pregnancy test is a final step to rate the success of the IVF.
Our Thiruvananthapuram facility will open shortly. Currently, we serve patients coming from nearby areas such as Kollamkode, Parassala, Poovar, Kovalam, Nithiravilai, and Vizhijam at our Marthandam facility. We promise world-class service standards and patient-centric treatment at all our hospitals. Call us at +91 7373 0055 63 if you're ready for the next step. We'll arrange an initial consultation at our fertility hospital in Thiruvananthapuram (Trivandrum).