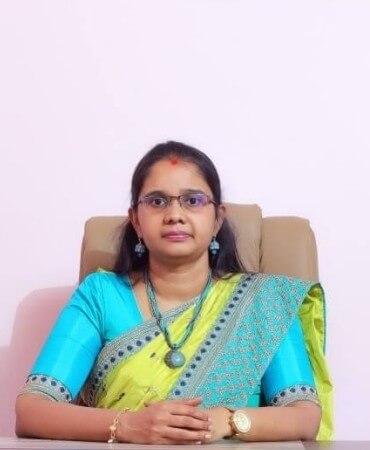 M.S(OG), DRM, FIAGES, USG TRAINED
Medical Director
Dr. Ananthi Aravind is well known for infertility treatment and high-risk pregnancies. She graduated from IRT Perundurai Medical College, Erode, and gold medalist in MS (Obstetrics and Gynaecology) from SRM Medical College, Kattanklathur. Then she obtained training in Ultrasound and Echo from Selvi Schools of Sonology, Chennai, and in Laparoscopy from Joseph Nursing Home, Chennai. Dr. Ananthi also obtained her Diploma in Reproductive Medicine from KIEL University, Germany. While in Germany, she also received training in Fertility and Assisted Reproduction from KIEL University. After completing her training in Fertility and Assisted Reproduction, Dr. Ananthi returned to India and started Fertility Care treatment in Lister Hospitals, Marhandam IN 2017.
The Department of Fertility at Lister Hospitals, Marthandam, under the inspiration of Dr. Ananthi, offers comprehensive infertility treatment ranging from male and female infertility management, high-risk pregnancy care, assisted reproduction techniques such as IVF/ICSI facility, and neonatology services. A t Lister Hospital, we have an exceptional team of Gynecologists, Embryologists, and Counsellors. Lister Hospitals offers excellent diagnostic lap hysteroscopy and hysteroscopic procedures. Dr. Ananthi is well-experienced in hysteroscopy as her thesis topic was Hysteroscopy.
Having Personal Questions? You can talk to a doctor
Talk To Us
As well-known for fertility, high-risk pregnancy, and gynecology-related problems, Dr. Ananthi Aravind has treated more than 15000 patients since 2017 and became successful in less than 500 conceptions in infertility patients. Dr. Ananthi was also successful in using assisted conception techniques such as OI and IUI in more than 300 patients. At Lister Hospitals, we are equipped with all modern facilities including fertility preservation methods ranging from oocyte storage and sperm storage to donor egg. We also provide comprehensive treatment and patient care from the time of conception to delivery.
Successful infertility Patients